Cozad School Administrators celebrated Dr. Seuss' birthday by reading to our Pre-K students this morning.

On Monday, March 6, Cozad Community Schools will begin to make automated attendance calls to parents when their child is absent as of 10 AM, but the school has not been notified of the absence. If the parent has notified the school of the absence before 9:45, the call will not be made. Parents will only receive a call if their child is absent AND the parent has not called to notify the school of the absence. If you receive a call in error, or you would like to change the number to which the call should be made, please notify the office at the school your child attends.

Cozad Community Schools is seeking applicants for a position in Food Service. Previous experience is beneficial, but not required. General job description and application forms are available at the District Office, 1910 Meridian Avenue, Cozad, NE 69130

Elementary Wacky Wednesday! Elementary students come with mixed up, wacky clothes. Pre-K come with your wacky hair. Also don't forget today is a 230 dismissal for all Cozad students pre-K through 12.

Boy's Basketball Meeting tomorrow, Wednesday, March 1st, @3:45pm in Coaches Danielson's office at the ELEM. This is only for current 9-11 players.

Get your early bird discount on Alice in Wonderland tickets by purchasing them by Thursday at 4 p.m. in the high school office! Pre-sale tickets are $5 for k-12 students and $7 for adults. Students younger than kindergarten are free. Or, buy them online at
www.tinyurl.com/CozadAliceTix
.
Congratulations to A. Burkholder for winning the extemporaneous speech competition at the NFL meet in Cheyenne, she moves on to national competition in Alabama this summer.
Good Luck to the MS Science Fair students today in Curtis!

CCS administrators today are learning how to use our new app and soon-to-be-released website to keep patrons up to date. #CozadMakers
Fun today with HATS! Tomorrow is "Fox in Socks!", wear your craziest socks!

Pre-K students at CEEC are celebrating Read Across America Week and Dr. Seuss' Birthday. Here are the Pre-K dress up days. They would also like to invite parents to join them for breakfast on Thursday, March 2nd, for Green Eggs and Ham! Breakfast at 7:45 am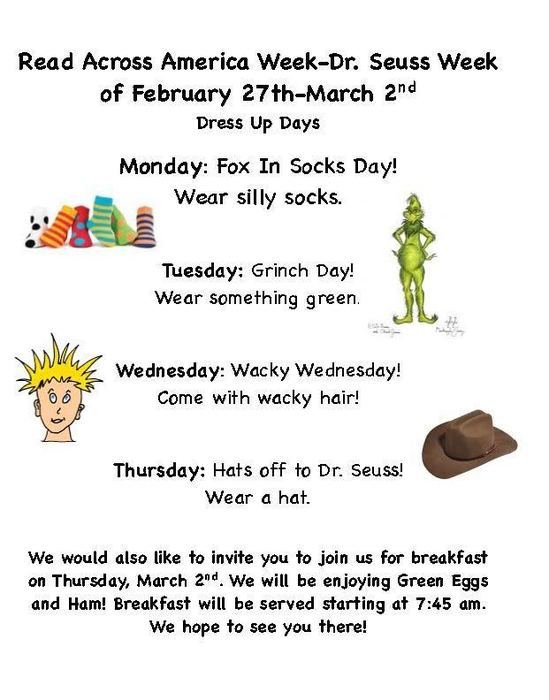 Football meeting Tuesday February 28th right after school in the weight room. This is for those grades 9-12 for 2017-18 school year. The meeting will last 15 minutes. #cozadmakers

Good Luck to the CMS Science Fair students as they compete in Curtis today! #cozadMakers

Congratulations to Ashley Grace Burkholder for qualifying for Nationals in the NFL Extemporaneous Speaking event! She will compete in Birmingham, AL this summer. Awesome job Ashley Grace!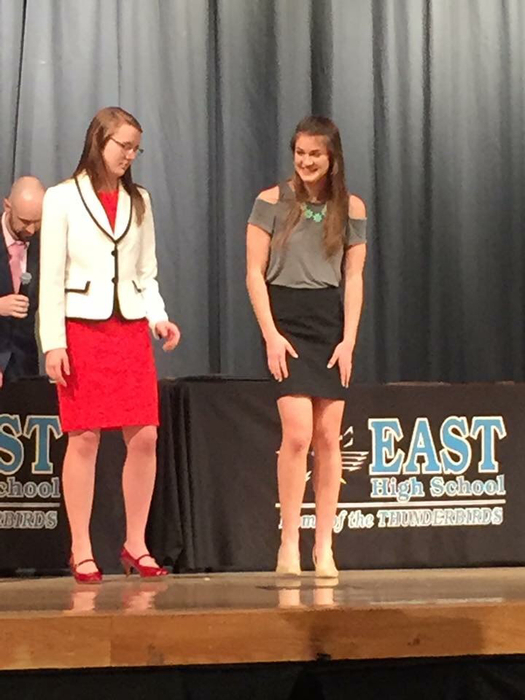 Day 3 of Varsity speech in Cheyenne-- Ashley Burkholder is still competing. Finals for Informative and still has rounds for Extemporaneous.

If you are a Cozad School APP user, we apologize that you may have just received the app notification that school was a late start today. The notification did post to the app but did not "notify" are users with a pop up. The company has fixed this and apologize. If you want to receive these types of notifications from the school on your devices, make sure you download the app and have the notifications turned on. Thank you!

Congratulations to CHS Senior Abigail Etherton who was selected as an Elk's Teen of the Month for February! #cozadMakers

There will be a football meeting in the weight room Tuesday February 28th right after school. All those wanting to play varsity football next season need to attend (grades 9-12 for 2017-18 school year). The meeting will last 15 minutes. #cozadMakers

When you now receive a phone call notification from Cozad Schools, the caller ID will show a number that is (402) 519-4585 and is listed as a Hastings, NE number.

Dress Up Week! Happy Birthday Dr. Seuss! We invite all students to dress up next week, February 27th-March 2nd.