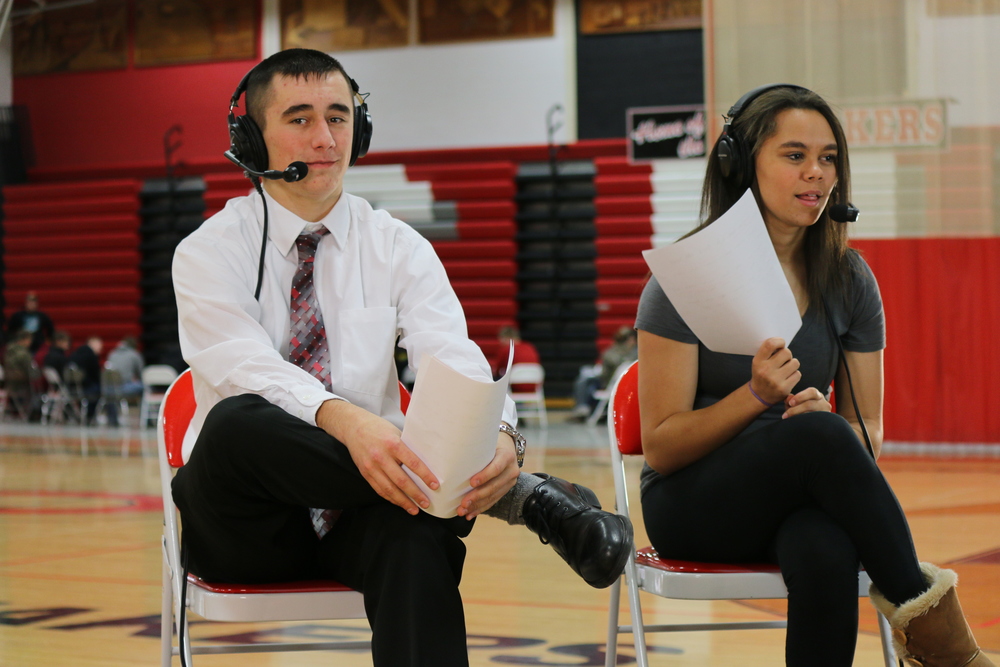 CCSA Awards 2016
Patty Wolfe
Tuesday, November 15, 2016
CCSA Awards 2016
On Thursday, November 3rd, many Cozad High School students were recognized for their academic success by receiving Cozad Community Scholastic Association (CCSA) awards .
CCSA was organized in January of 1958 to honor Cozad High School students for their academic accomplishments at a special awards night. At awards night, monetary awards are given to the first, second and third place winners in the Freshmen through Senior classes in the areas of Language Arts, Math, Reading, and Science. All students who score in the 90th percentile on the MAPs test will receive certificates.
Students who have received these awards will meet one of the criteria to be eligible to apply for the Ervin and Grace Burkholder Scholarship, which is given each spring to a Cozad High School Senior.
Board members of the Cozad Community Scholastic Association include Korlynn Applegate, Rachel Crick, Jared Dugan, Marsha Engel, Gina Jensen, and Bill Wilkins. Thank you to this association for recognizing the academic successes of Cozad High School Students.
Recipients of this year's CCSA Awards include:
9th Grade
Math
Austin Werner ~ 1st Place
Megan Burkholder ~ 2nd Place
Hunter Kussman ~ 3rd Place
Gage Sutherland
Katelyn Calhoun
Chloe Donahey
Corbyn Sattler
Hailey Wilson
Sienna Torres
Nathan Breon
Gabriel Estrada
Reading
Sienna Torres ~ 1st Place
Trenton Emmons ~ 2nd Place
Megan Burkholder ~ 3rd Place
Kaleb Staton ~ 3rd Place
Cade Stott ~ 3rd Place
Hunter Kussman
Geoffrey Brandenberg
Silverio Delgado
Hailey Wilson
Jacob Gengenbach
Language Arts
Sienna Torres ~ 1st Place
Megan Burkholder ~ 2nd Place
Trenton Emmons ~ 3rd Place
Hunter Kussman
Hailey Wilson
Gillian Torres
Dalton McCarter
Katelyn Calhoun
Haley Cargill
Austin Karges
Jonathan Martinez
Austin Werner
Science
Sienna Torres ~ 1st Place
Megan Burkholder ~ 2nd Place
Hailey Wilson ~ 3rd Place
Trenton Emmons
Hunter Kussman
Daniel Petersen
Kaleb Staton
Geoffrey Brandenberg
Jercey Irish
Dalton McCarter
Carl Sayer
Cade Stott
Austin Werner
10th Grade
Math
Maddux Myer ~ 1st Place
Aiden Essex ~ 2nd Place
Luke Breon ~ 3rd Place
Abigail Cornelius
Nathan Karel
Tre Sumrall
Jovi Cervantes
Alaine Canas
Natalie Engel
Kaden Garcia
Stephen Gumble
Reading
Stephen Gumble ~ 1st Place
Alaine Canas ~ 2nd Place
Terasa Emmons ~ 3rd Place
Aiden Essex ~ 3rd Place
Olivia Klein
Abby Thramer
Madison Weatherly
Natalie Engel
Myah Marshalek
Adelyne Hergenrader
Sydney Lindstedt
Devin Lytton
Samantha Myers
Language Arts
Aiden Essex ~ 1st Place
Kaden Garcia ~ 2nd Place
Alaine Canas ~ 3rd Place
Terasa Emmons ~ 3rd Place
Stephen Gumble ~ 3rd Place
Adelyne Hergenrader ~ 3rd Place
Abby Thramer ~ 3rd Place
Madison Weatherly ~ 3rd Place
Samantha Myers
Carissa Jensen
Olivia Klein
Sydney Lindstedt
Science
Abigail Cornelius ~ 1st Place
Nathan Karel ~ 2nd Place
Aiden Essex ~ 3rd Place
Stephen Gumble
Jovi Cervantes
Kayla Eckard
Alaine Canas
Sydney Lindstedt
Adelyne Hergenrader
Olivia Klein
11th Grade
Math
Ashley Burkholder ~ 1st Place
Melissa Estrada ~ 1st Place
Emily Smith ~ 2nd Place
Chloe Lundgren ~ 3rd Place
Guadalupe Martinez ~ 3rd Place
Kennedy Berreckman
Sadie Rush
Devon Canas
Kyle German
Kaitlyn Spaulding
Reading
Kennedy Berreckman ~ 1st Place
Ashley Burkholder ~ 2nd Place
Garrett Savick ~ 3rd Place
Chloe Lundgren
Annastasia McCracken
Sadie Rush
Melissa Estrada
Aaliyah Wilkins
Zachary Beckenhauer
Nicholas Meredith
Emily Smith
Language Arts
Ashley Burkholder ~ 1st Place
Kennedy Berreckman ~ 2nd Place
Melissa Estrada ~ 3rd Place
Sadie Rush
Emily Smith
Chloe Lundgren
Annastasia McCracken
Elizabeth Stallbaumer
Garrett Savick
Devon Canas
Arturo Martinez
Skylar Rogers
Science
Ashley Burkholder~ 1st Place
Chloe Lundgren ~ 2nd Place
Emily Smith ~ 3rd Place
Kennedy Berreckman
Devon Canas
Garrett Savick
James Brooks
Melissa Estrada
Zachary Beckenhauer
Annastasia McCracken
Nathan Smock
12th Grade
Math
Benjamin Wetovick ~ 1st Place
Micah Armstrong ~ 2nd Place
Jose Alvidrez ~ 3rd Place
Kaylei Becker
Caleb Young
Cristian Prado
Blake Osborn
Chandler Brock
Bret Hladky
Kanyon Eckard
Reading
Caleb Young ~ 1st Place
Jose Alvidrez ~ 2nd Place
Marina Arnold ~ 3rd Place
Jordan Brandenburg ~ 3rd Place
Devin Favinger
Benjamin Wetovick
Valeria Estrada
Whitney Applegate
Kaylei Becker
Cameron Griffis
Language Arts
Jose Alvidrez ~ 1st Place
Marina Arnold ~ 2nd Place
Benjamin Wetovick ~ 3rd Place
Cristina Prado
Devin Favinger
Whitney Applegate
Caleb Young
Kaylei Becker
Jordon Brandenburg
Bret Hladky
Science
Caleb Young ~ 1st Place
Benjamin Wetovick ~ 2nd Place
Jordon Brandenburg ~ 3rd Place
Bret Hladky
Chandler Brock
Jose Alvidrez
Micah Armstrong
Devin Favinger
Penny Barnes
Valeria Estrada
Cristina Prado