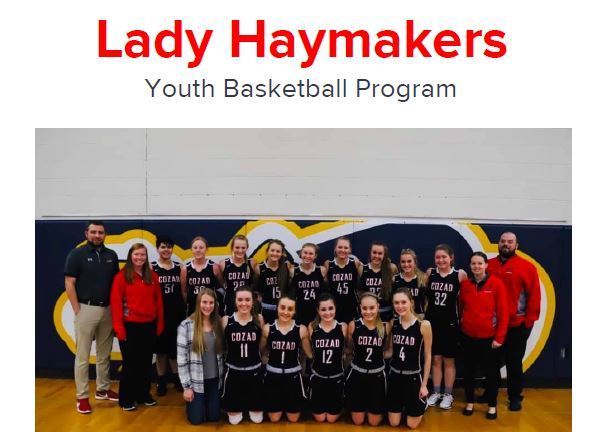 Lady Haymakers Youth Basketball Program
CHS Girls' Basketball
Monday, January 07, 2019
Lady Haymakers
Youth Basketball Program
Age: K-8th

When/Where: Every Sunday Night; January 13th - March 3rd; High School Gym
Cost: $20
Time: 5:00 K-2nd/6:00; 3rd-5th/7:00; 6th-8th
---
Sunday Night
This will be a 8 week program for every Little Lady Haymaker that wants to develop fundamentals. My Staff and Volunteers will be there to help with Dribbling, Passing, Shooting form and Defensive stance. We will start with entry level basketball fundamentals and work our way up in each age division with more skilled basketball moves.The $20 cost will include a shooting shirt for each player and will help start a youth program that the town of Cozad can be proud of! We want everyone to come join the movement and work towards making this a fun environment for our young athletes.
---
Basketball Team's
We are also forming teams for grades 3rd-8th to compete in local tournaments. If your athlete is interested in playing in a tournament please let us know after the first practice so we can get you in contact with one of our coaches. The tournaments will end up costing extra to play in but hoping with good numbers we can keep the cost down.
For Printable Registration Form, visit our Document section--Documents--Schools--Elementary or Middle School or click HEREfor the printable form.