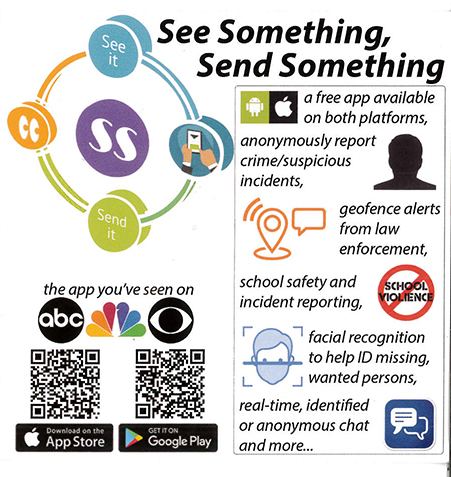 New App--See Something Send Something
Cozad Community Schools
Friday, September 14, 2018
A free community App is now available for Android, iOS, iPad, iPod and iWatch download. This app empowers our community and students. According to the See Something Send Something website (https://www.seeandsend.info), this app was inspired from the "See something, Say something" movement to empower our community, increase communication and solve crimes. This app allows law enforcement to send GeoFenced messages about current or past suspicious activity, be proactive in warning about potential criminal activity and alert community of missing or endangered persons. The app also allows the community to capture images, video, or audio of suspicious activity and autonomously send to the closest law enforcement agency. This help will help with school safety and incident reporting such as potential violence, suicide, drugs, or bullying.
For more information, visit www.seeandsend.info or call Safe Schools Hotline at 866-286-7233.
iOS App Download: https://itunes.apple.com/us/ap...
Android App Download: https://play.google.com/store/...