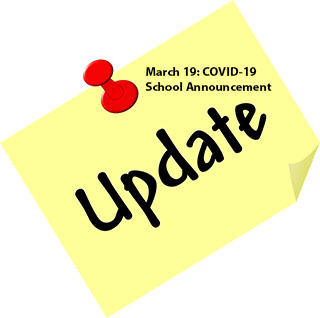 March 19: COVID-19: School Announcement
Mr. Ron Wymore, Superintendent
Thursday, March 19, 2020
Dear Cozad Community School Parents/Guardians,
With the recent announcement from the Governor and the Commissioner of Education that schools need to extend their closure for two weeks, Cozad Community Schools will currently extend our closure and will be closed through Friday, April 3rd. Following the CDC's guidance of not meeting in groups of 10 or more, all activities and events scheduled in this time period will be postponed.
Review/Enrichment Learning Opportunities:
Teachers are preparing review and enrichment activities, and lessons for students. These activities will be sent out on a weekly basis, the first set of activities will go out Monday, March 23rd. As we are waiting on guidance from the Nebraska Department of Education, we are using the next two weeks as review and enrichment (no grades will be taken, but feedback may be provided by teachers). If your student does not have access to a device or internet, contact your child's school building.
Student Devices:
As we are allowing students to use school issued devices, please be aware of websites that your students are accessing. If you are having technology difficulties or questions with your school device, please contact Patty Wolfe (patty.wolfe@cozadschools.net) or Christie Irish (christie.irish@cozadschools.net).
Building Access:
Students who need to access the building to pick up personal items, band instruments, school issued device, or other items will be allowed to access their respective buildings at designated times. These times will be sent out via a notification from each building.
Breakfast and Lunch:
Cozad Community Schools is providing meals for anyone 18 years old and younger. Grab 'n' Go breakfast and lunch will be available regardless of free and reduced lunch eligibility or their school of attendance. Meals will be distributed via a drive-through model. Children will be given a breakfast bag intended for the next day and a sack lunch. One meal per student will be available from 11:30 a.m. to 12:30 p.m. while supplies last. No one will be allowed inside the building for any purpose.
Grab 'n' Go meals for children will be served at the main entrance of the following locations, unless noted otherwise:
Middle School/High School - Circle Drive of Middle School

Elementary School - Front Circle Drive

Cozad Early Education Center front of school (south doors)

Horizon Mobile Home Park bus stop (East of Garrett Tire)

1 block North of Cozad Child Care at bus stop

Frenchy Park - West Side of park at bus stop
Spring Activities and Events:
From the NSAA: Effective Monday, March 16 all NSAA activity practices are suspended until Monday, March 30 and all NSAA activity competitions are suspended until Thursday, April 2. These suspensions may be extended should the conditions warrant. Member schools and student-participants are expected to adhere to the NSAA Constitution & Bylaws and activity manuals during this time. As more information becomes available, official updates will be posted on the NSAA website and the NSAA social media platforms.
Local Events:
All activities are currently suspended until further notice.
Graduation: At this time, we have not moved or rescheduled graduation. As the date comes closer, we will make the necessary modifications to the date, format, etc. We will communicate any changes as the time grows closer.
On behalf of the Cozad Community Schools, I would like to thank you for your patience as we work through these closures and postponements. We understand that it is not ideal for anyone and there are unforeseen complications that families are facing. If you have any questions, please let us know.
Sincerely,
Ron Wymore
Superintendent