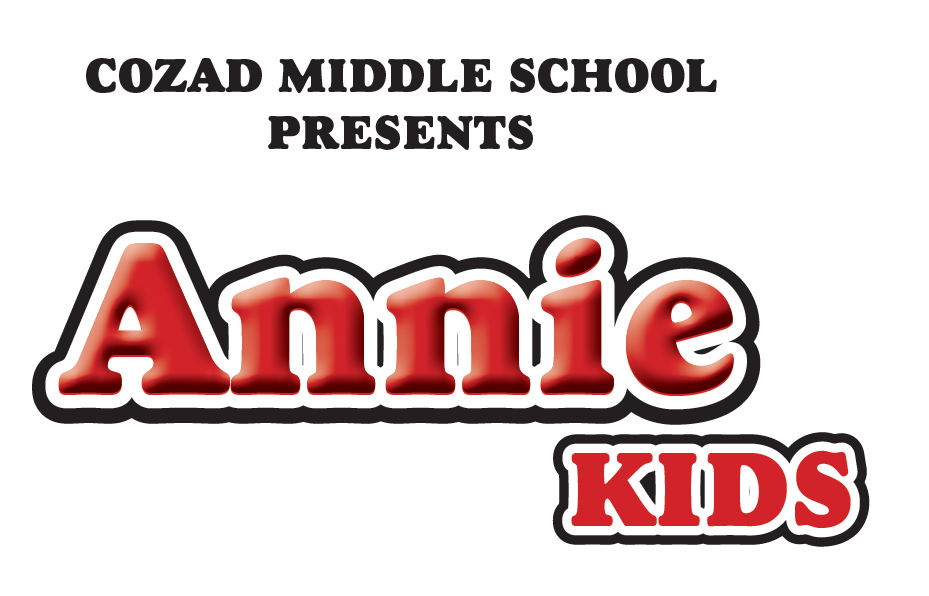 Cozad Middle School Presents Annie Kids
Cozad Middle School
Tuesday, March 03, 2020
Cozad Middle School Presents "Annie KIDS" on March 17, 2020, at 7:00 p.m. in the CHS Auditorium. Admission is $5 (adults) and $4 (students). Pay at the door or get tickets pre-sale at the middle school office during school hours. The middle school musical is made possible by the CMS Activities program. Over 80 students auditioned for a spot in the production with 50 being selected as cast and crew members. Students have been rehearsing during their activities class since November and are very excited to bring the show to life for a live audience in March. Cozad Middle School and Cozad Elementary students will get to see the play for free with their teachers in two assemblies given during the day on March 17th and 18th.
The production team for Annie KIDS includes Directors - Marcie Kostrunek and Stacie Blackmore, Technical Director - Kyle Vincent, and Stage Crew Director - Jennifer Walls. Director's Assistants include CHS students Angel Rigsby and Jadyn Hardee.
The cast and crew would like to thank CMS Principal, Brian Regelin, the Cozad Community Schools administration, and our very enthusiastic and supportive staff at Cozad Middle School for making our production possible! A special shout out to Mike and Stacy Hickenbottom for the time and talent of their pup, Chopper, who will be portraying Sandy.
| | | |
| --- | --- | --- |
| Annie | Destiny | McFall |
| Sandy | Chopper | Hickenbottom |
| Duffy | Shree | Dyches-Chandler |
| July | Greeley | Cargill |
| Kate | Clatyn | Fleharty |
| Tessie | Camryn | Yilk |
| Molly | Autum | Maline |
| Pepper/President Roosevelt | Brock | Malcom |
| Miss Hannigan | Makenzie | Smock |
| Oliver Warbucks | Jared | Merced |
| Rooster Hannigan | Wyatt | Hosick |
| Lily St. Regis | Latasha | Heuck |
| Grace Farrell | Blaire | Davis |
| Drake/Orphan | Rugor | Aden |
| Servant/Orphan/New Yorker | Taylor | Howell |
| Servant/Orphan/New Yorker | Andrea | Meester |
| Servant/Orphan/New Yorker | Austin | Oyler |
| Orphan/New Yorker | Ricky | Perez |
| Servant/Orphan/New Yorker | Brecken | Twyford |
| Apple Seller/Orphan/New Yorker | Kelseigh | Romero |
| Bundles/Orphan/New Yorker | Talyn | Propp |
| Lt. Ward/Orphan/New Yorker | Callie | Kostrunek |
| Star-to-Be/Orphan | Ellie | Albrecht |
| Usherette/Orphan/New Yorker | London | Costanza |
| Orphan/Bertie Healy/Louise Howe | Jorja | Yocom |
| Orphan/New Yorker | Nayelie | Castillo |
| Orphan/New Yorker | Sadie | McCracken |
| Orphan/New Yorker | Larkyn | Malcom |
| Orphan/New Yorker | McKenzie | Munster |
| Orphan/New Yorker | Maya | Rahmann |
| Orphan/New Yorker | Taeh | Soe |
| Orphan/New Yorker | Sky | Willhoite |
| Orphan/Hot Dog Vendor | Emma | Lindekugel |
| Orphan | Lauren | Eldridge |
| Orphan | Abbie | Albrecht |
| Orphan | Kinley | Armagost |
| Orphan | Libby | Bennett |
| Orphan | Esmeralda | Hernandez |
| Orphan | Olivia | Hite |
| Orphan | Rebeca | Htoo |
| Orphan | Anahi | Rodriguez |
| Orphan | Mara | Stubbs |
| Orphan | Adysn | Young |
| Orphan | Lucha | Olvera |
| Technical Crew/Grumpy Old Man | Alex | Perez |
| Technical Crew | Jason | Dyer |
| Technical Crew | Elliott | Blackmore |
| Stage crew | Samantha | Hasbrouck |
| Stage crew | Mayla | Sutherland |
| Stage crew | Jazmine | Waltermire |