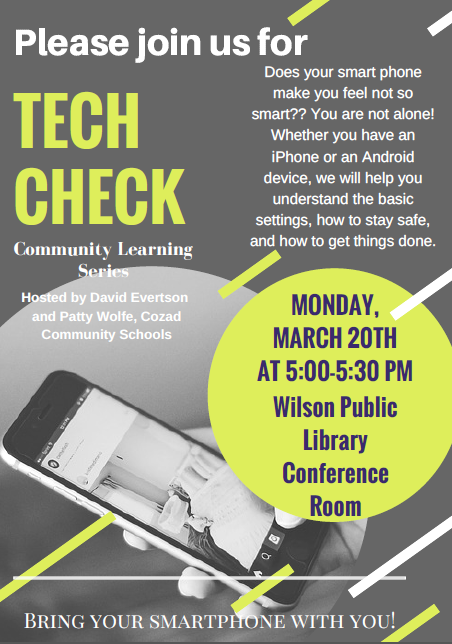 Tech Check March 20 - Wilson Public Library
Dave Evertson
Saturday, March 18, 2017
FOR MORE INFORMATION:
Wilson Public Library Director Laurie Yocom
308-784- 2019
Tech Check March 20
Would you like your smartphone to lead a healthier life? Curious about how to keep it in
the best shape? Wilson Public Library in Cozad invites you to join them on Monday,
March 20, at 5pm for a Tech Check with Dave Evertson and Patty Wolfe from Cozad
Community Schools. You will learn useful tips and tricks for your smartphone, whether
Android or iPhone. Don't have one yet? Check out both to decide the right one for you!
No registration needed; this is part of a continuing monthly tech series starting in March.
Check out our website at www.wilsonpubliclibrary.com or our Facebook page at Wilson
Public Library.