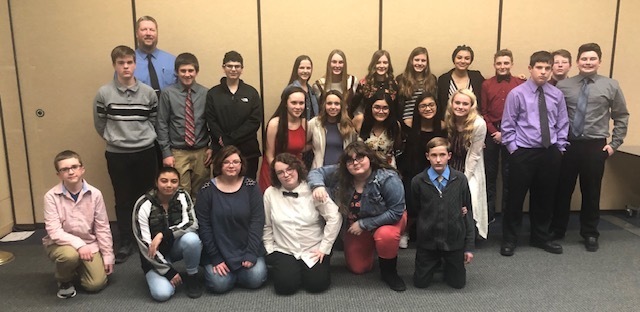 History Day at UNK
Cozad Middle School
Thursday, March 07, 2019
Cozad Middle School had 23 eighth grade students compete at District History day at UNK on Wednesday, March 6th. It was a successful day as we had several first place winners.
15 students qualified for the State History Day competition on April 6th. We had a group qualify for exhibit board for the first time and a performance group qualify for the first time.
Participants in the District History Day were:
Carter Tilson and Brock Lee
Sam Hergenrader, Xavier Chinchilla, and Cody Pettry

Izac Harms and Drake Sattler
The following all qualified for state in Lincoln on April 6th.
Placing 2nd in Group Exhibit Board -- Autumn Smith, Alexa Perez, Anahy De Anda, Kaylee Revelo-Martinez, and Dayauna Girdner
Placing 1st in Group Documentary -- Killian Kostman and Sam Blackmore
Placing 2nd in Individual Research Paper -- Lisa Holen
Placing 3rd in Group Website -- Gillian Meredith, Blanca Garcia, Faith Hasbrouck, Alysiah Urquiza-Buss
Placing 2nd in Group Performance -- Karyn Burkholder, Megan Dyer, Mallory Applegate, and Mari Canas
Congratulations to all of the CMS students. Students were sponsored by Mr. Brent Frauen, Middle School Social Studies teacher.