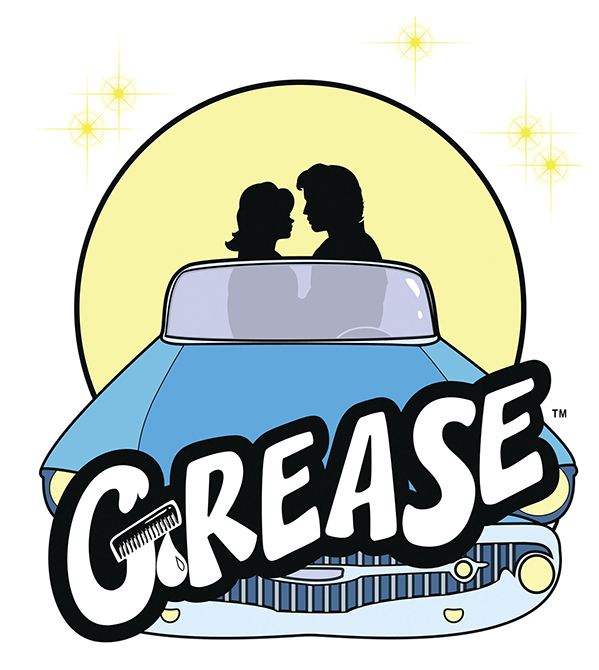 CHS Presents "Grease: School Version"
Cozad High School
Monday, February 18, 2019
Cozad High School Presents "Grease: School Version" on March 1st and 2nd at 7:00 p.m. and March 3rd at 2:00 p.m. in the CHS Auditorium. Tickets are available for purchase at the Cozad High School office during school hours. Tickets may also be purchased online at www.eventbrite.com. Find online tickets directly using tinyurl.com/cozadgrease. Cozad High School is located at 1710 Meridian Avenue, 308-784-2744.
Pre-sale tickets are available until February 28th. K-12 students $5; Adults $8. At the door: K-12 students $7; Adults $10.
Directors are Stacie Blackmore and Mercedez Guerra, along with Technical Director, Kyle Vincent and Pit Director, Mark Messner.
The cast and crew would like to thank the Cozad Community Schools administration and our many sponsors for making our production possible!
CAST:
Alex Huertas Danny
Carrie Osborn Sandy
Jonathan Neill Kenickie
Jadyn Hardee Rizzo
Kaden Garcia Doody, Hero Voice
Becca Shaffer Frenchy, Radio Voice
Trevor Linn Roger
Isabel Schaefer Jan
Damion Fochtman Sonny
Natalie Engel Marty
Emily Siebenhor Patty
Thomas Hasbrouck Eugene
Abby Worrell Miss Lynch
Hunter Kussman Johnny Casino
Memphis Remmenga Cha-Cha
Samuel Hermosillo Vince Fontaine
Sydney Lindstedt Teen Angel
Angel Rigsby Scientist, Teen Angel Choir, Ensemble
Katie Wilson Sheila, Teen Angel Choir, Ensemble
Alexa Dominguez Teen Angel Choir, Ensemble
Claire Kostrunek Teen Angel Choir, Ensemble
Jordan Kovarik Teen Angel Choir, Ensemble
Tara Linn Teen Angel Choir, Ensemble
Lorali Marshall Teen Angel Choir, Ensemble
Tessa Mulei Teen Angel Choir, Ensemble
Grace Ratkovec Teen Angel Choir, Ensemble
Biz Tvrdy Teen Angel Choir, Ensemble
Shaundra Wiederholdt Teen Angel Choir, Ensemble
Belle Hagan Ensemble
Eduardo Utrera Ensemble, Stage Crew
Elmer Orellana Ensemble, Stage Crew
Joseph Thang Ensemble
CREW:
Jennifer Rodriguez Stage Manager
Taylor Hoff Stage Manager
Gillian Torres Stage Crew
Kayla Barnes Stage Crew
Desaray Schwarz Stage Crew
Grabiel Lobatos Stage Crew
Lexy Canas Stage Crew
Selma Carrillo Stage Crew
Breanna Pacheco Technical Crew
Quinn Salleng Technical Crew
Morgan Wenburg Technical Crew
Riley Tilson Technical Crew
Hailey Mulei Front of House
Liz Demilt Front of House
PIT MUSICIANS:
Karissa Jackson Keyboard
Landry Geiger Guitar
Joseph Heredia Drums
Carlos Vargas Guitar
Linda Grabenstein Keyboard
Caleb Johnson Trumpet
Bill Shaffer Electric Bass
SPONSORS:
Cozad Jaycees Silver Sponsor
Hunt Cleaners Silver Sponsor
Island Dehy Silver Sponsor
Nebraska Plastics, Inc. Silver Sponsor
Prairie Point Junction Silver Sponsor
State Farm - Heidi Bazata Silver Sponsor
Service Drug Silver Sponsor
Cozad Alfalfa, Inc. Bronze Sponsor
Cozad Elks Bronze Sponsor
Cozad Family Eyecare Bronze Sponsor
Davis Family Dental, LLC Bronze Sponsor
Ide Family Dental Bronze Sponsor
Malcom, Nelsen & Windrum Bronze Sponsor
Platte Valley Auto Mart, Inc. Bronze Sponsor
Rowe Construction Inc. Bronze Sponsor
Security First Bank Bronze Sponsor
Service Master of Mid Nebraska Bronze Sponsor
Zook's Welding Shop, Inc. Bronze Sponsor
Paulsen, Inc. Patron Sponsor
Pony Express Chevrolet Buick Patron Sponsor
Waypoint Bank Patron Sponsor